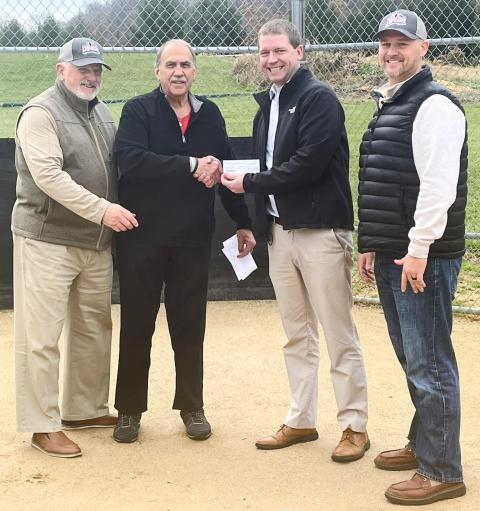 A successful fundraising effort associated with its annual awards banquet plus a sports memorabilia auction has allowed the Hall of Fame to double its donation to supported charities this year.
The organization donated $2,000 each to:
Challenger of Lancaster County Little League.
Aaron's Acres of Lancaster.
Boys & Girls Club of Lancaster.
Fourth donation is pending.
"Challenger Little League provides children with physical and intellectual challenges the opportunity to experience the game of baseball, be in an organized team environment and create new friendships with other members of their community," said local President Luke Sankowski.
The Lancaster County organization, founded in 1989, had 9 teams with 125 players in 2022. With a Little League division and Senior League, it serves ages ranging from 5 to 37 years old.
The county organization has been selected to participate in Little League International's Challenger Division Exhibition Game during next summer's Little League World Series in Williamsport. Senkowski said the donation will help cover some of those costs.
The Challenger game has been part of the worldwide 12-and-under championship tournament since 2001.  
Pictured in top photo, from left, are Hall of Fame board members Tom Bennett and Jack Segro, Senkowski and Mike Laverty, Challenger vice president.
Risa Paskoff, executive director of Aaron's Acres, center in first photo below, received her organization's Hall of Fame donation from Denise Gobrecht, left, and Jack Neal.
The organization's website says it embraces possibilities beyond disabilities: "Since 1998, Aaron's Acres has provided children and young adults with disabilities something very unique -- possibility. The possibility to learn, to grow, and to succeed despite any challenges. With every family we serve, our goal is always the same: to provide social and recreational programs that nurture important socialization and communication skills. All children regardless of ability can partake in the Aaron's Acres experience."
The Boys & Girls Club of Lancaster has served youth in the Lancaster community since 1939, providing daily programs and services to nearly 2,000 young people each year. The club is open daily with programs that emphasize academic success, career enhancement, character and leadership development, and healthy lifestyles.
In second photo below, board members Tony Woods, left, and Jack Blackman present a check to a Boys and Girls Club CEO Karen Schloer.