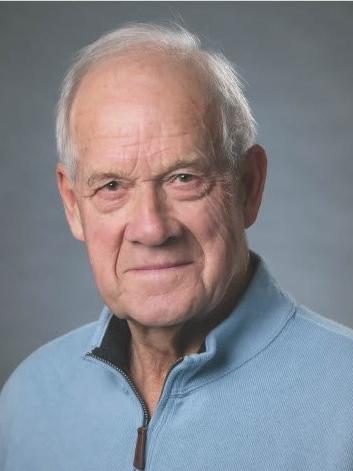 2023
George W. Kirchner Award
A 1959 graduate of J.P. McCaskey High School, Ed Flick has been a fixture in the Lancaster area his entire adult life through sports officiating and community service.
While at McCaskey, Flick was a member of the football and basketball teams. He was a member of the 1957 Central Penn League championship football team. After fours in the U.S. Air Force, he returned to Lancaster where he began a 43-year career with Fulton Bank and retired as a senior vice president.
Flick excelled in officiating an array of sports. His distinguished career included 33 years in basketball, 23 in ASA fast-pitch softball and 15 years in baseball.
The sport he enjoyed the most was basketball. He officiated 12 Lancaster County/L-L League championship games and was the only official to work both the boys and girls L-L Championships in the same year. He refereed 8 PIAA District 3 Championship games, including 3 at the AAAA level (now 6A). And in 1992 he officiated the PIAA AAA final between Strath Haven and Blackhawk. He also officiated two Middle Atlantic Conference collegiate women's title games.
Flick has the distinction of refereeing high school games of five future NBA players – Wally Walker, Sam Bowie, Billy Owens, Donyell Marshall and Sarunas Jasikevicius.
Ed was an ASA softball umpire for 23 years (1964-1987). During that time, he umpired district, state and regional tournaments. He was fortunate to umpire fast-pitch softball during a time when some of the best teams in the USA came from the Lancaster area. He umpired games pitched by legends Ty Stofflett and Eddie Feigner. In 1976, he was one of 12 umpires in the United States to umpire at the National Class AA Fast-Pitch Tournament in Allentown. He also umpired women's college softball.
For 15 years he was a PIAA and college baseball umpire. He umpired L-L League, District 3 and PIAA state games. In 1982 he was chosen by the PIAA to umpire in the State Baseball Championship at Shippensburg University.
Flick has been honored with the 1981 Scott Spangenburg Memorial Award by the Lancaster Recreation League and the 1994 H. Grant "Tick" Hurst Memorial Award as the Lancaster-Lebanon Chapter PIAA Basketball Official of the Year. In 2004 he was inducted into the Susquehanna Valley Chapter of the Pennsylvania Sports Hall of Fame. In 2006, he won a J. Freeland Chryst Award, which placed him in the Lancaster County Sports Hall of Fame.
Ed has also been recognized for his outstanding community service in executive roles with Hospice & Community Care, Pennsylvania Recreation Vehicle and Camping Assocation and Lancaster County Sports Hall of Fame, among others.
He was involved with Hospice & Community Care from 1984 to 2021 and from 2006 to 2021 he chaired the Hospice Sports Memorabilia Labor Day Auction. He spearheaded an effort that raised $575,000 for Hospice. His involvement with Hospice has earned him awards such as the James Sheckard Community Service Award from Susquehanna Valley Chapter of the Pennsylvania Sports Hall of Fame in May 2016, Service to Mankind Award from Sertoma Club of Lancaster 2014, Service to Mankind Sertoma West Central District Award for 2013-2104.
Ed has been a member of the Lancaster County Sports Hall of Fame board since 2012 and served as its chairman from 2016 to 2022, during a period when the organization shifted its banquet to the Eden Resort and established a permanent display at Spooky Nook Sports and a website.